Jimmy Fallon net worth: Jimmy Fallon is an American comedian, actor, television host, singer, writer, and producer who has a net worth of $60 million dollars. He is known for his work in television on Saturday Night Live and as the host of The Tonight Show Starring Jimmy Fallon and before that, Late Night with Jimmy Fallon. His annual salary for hosting The Tonight Show is $16 million.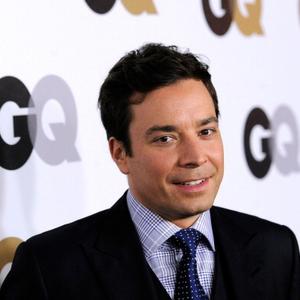 Jimmy Fallon
| | |
| --- | --- |
| Net Worth: | $60 Million |
| Salary: | $16 Million Per Year |
| Date of Birth: | Sep 19, 1974 (45 years old) |
| Gender: | Male |
| Height: | 6 ft (1.83 m) |
| Profession: | Comedian, Actor, Musician, Singer, Television producer, Screenwriter, Presenter, Impersonator, Voice Actor, Writer |
| Nationality: | United States of America |
| Last Updated: | 2020 |
Early Life: Jimmy Fallon was born on September 19, 1974, in the Bay Ridge neighborhood of Brooklyn, New York. He is of German, Irish, and Norwegian descent. He grew up in a town called Saugerties, New York. Fallon has described his childhood as "idyllic," while his parents have been described as overprotective. He and his sister, Gloria, were unable to leave their home and had to ride their bicycles in the backyard.  Fallon attended the Roman Catholic school St. Mary of the Snow. He considered being a priest, inspired by his experiences as an altar boy but became more interested in comedy instead. He spent many nights listening to the radio program The Dr. Demento Show, which exposed him to both comedy and music.
When Fallon was a teenager, he developed an obsession with Saturday Night Live, though he was only allowed to see the "clean parts" that his parents recorded for him. He and his sister would act out sketches from the show for their parents and friends. Fallon impressed his parents with his impersonations, especially of actor James Cagney and comedian Dana Carvey. He was musically inclined and started playing guitar at age 13. He went on to perform comedy and music in contests and shows. By his junior high years, he was labeled a class clown but was also described as "nice and well-mannered.
At Saugerties High School, he was a performer in most stage productions. He won a young comedian's contest with an impression of Pee-wee Herman. He graduated in 1992. After graduating from high school, his mother encouraged him to try performing at an open mic night at a comedy club called Bananas in Poughkeepsie, New York.
Fallon attended The College of Saint Rose in Albany, New York, where he was a computer science major before switching to communications in his senior year. On weekends, he performed stand-up comedy. Fallon would often board buses from his aunt's house in Fort Hamilton to perform sets at Caroline's Comedy Club in Times Square. He did not graduate, leaving college a semester early to pursue a comedy career.
He moved to Los Angeles in 1995 at age 21 to pursue a comedy career full-time.
Career: In Los Angeles, Jimmy joined The Groundlings improv group where he began to polish a very funny standup act. He often did stand-up at the Improv, earning $7.50 per set. He appeared in the feature film The Scheme. His one line in the 1996 film Father's Day was cut, but he can still be seen in the background. In 1998, Fallon appeared briefly on the show Spin City in the second season as a man selling photographs. He auditioned for Saturday Night Live for the first time in 1997 but was unsuccessful.
Fallon landed his second audition at the age of 23. At the "notoriously difficult audition," he was told by several people that creator Lorne Michaels almost never laughed during auditions. Fallon went onstage and did well,  performing a "celebrity walk-a-thon" with impressions of Jerry Seinfeld, Chris Rock, Bill Cosby, and Adam Sandler, an SNL alumnus who had recently left the show. Michaels and others laughed. He was hired as a cast member for the 1998-1999 season. He became the program's most featured mimic, doing popular impressions of Robert De Niro, Jerry Seinfeld, and Howard Stern.
Fallon initially thought he would spend three years at SNL, like John Belushi, but he was persuaded to stay on for an additional three when given the reins to Weekend Update. In his later years on SNL, Fallon co-starred in skit titled "The Barry Gibb Talk Show" alongside musician Justin Timberlake, where the duo portrayed Bee Gees brothers, Barry and Robin Gibb. It marked the beginning of a long-running friendship and collaboration with Timberlake. He remained a cast member of SNL until the 2004 season.
After leaving SNL, Jimmy pursued an acting career with movies like Fever Pitch, Factory Girl, and Whip It. He then found success as the host of the television show Late Night with Jimmy Fallon. In April 2013, NBC announced that Jimmy had been selected to take over The Tonight Show from Jay Leno immediately following the 2014 winter Olympics.
Fallon has won Primetime Emmy Awards for Late Night with Jimmy Fallon in 2010, Saturday Night Live in 2012 and 2014, and The Tonight Show Starring Jimmy Fallon in 2015. Fallon released the albums The Bathroom Wall in 2002 and Blow Your Pants Off in 2012, which reached #1 on the US Comedy chart and won a Grammy Award for Best Comedy Album. He has also authored the books I Hate This Place: The Pessimist's Guide to Life, Snowball Fight!, Thank You Notes, Thank You Notes 2, Your Baby's First Word Will Be DADA, and Everything Is Mama.
Personal Life: Fallon met film producer Nancy Juvonen co-owner (alongside Drew Barrymore) of Flower Films on the set of his movie Fever Pitch. They began dating in May 2007. Fallon proposed at sunset on the dock of Juvonen's family home in New Hampshire in August 2007. They were married on December 22, 2007. They have two daughters, Winnie Rose and Francis Cole, as well as a golden retriever named Gary Frick. Gary has appeared on Late Night with Jimmy Fallon.
Salary Highlights: Fallon brings home an annual salary of $16 million.
Real Estate: Fallon and his wife own a home in the Hamptons. Located in Sagaponack, it's a 3,500-square-foot farmhouse style home built in the 1800s. Fallon bought it in 2011 for $5.7 million.
In 2014, Fallon and his wife bought a fifth unit at 34 Grammercy Place. They paid $725,000 for a top-floor studio apartment. The purchase in the nine-story, roughly 35-unit building was in addition to a purchase a few months earlier of the one-bedroom apartment next door to the studio for $1.35 million.