This is a list of the tennis queens who played tennis as a passion. And, they dominate the world throughout their careers. These tennis stars have also been an inspiration for women across the globe. Their determination has awarded them an unforgettable name in their respective fields. let's have a look at all-time greatest female tennis players.
Top 10 Greatest Female Tennis Players of all Time
Tennis is one of Most Played Sports in the World. Let's See who are the Best Female Tennis Players of All Time.
10. Martina Hingis
One of the Greatest Female Tennis Players, Martina has won 5 Grand Slam, 548–133 (80.5%), prize money $20,130,657 in her career. No need to justify the score here. Hingis has almost done it all in tennis, with her accomplishments being surpassed by a select few. Five Grand Slam titles, 40 career titles and a win-loss record of 463-95 since she turned pro in 1994 at the age of 14.
She is a Swiss former professional tennis player who spent a total of 209 weeks as World No. 1. Hingis set a series of "youngest-ever" records before ligament injuries in both ankles forced her to withdraw temporarily from professional tennis in 2002 at the age of 22 years. she leads the 2013 class for the International Tennis Hall of Fame.
9. Monica Seles
One of the Greatest Female Tennis Players, who have Nine Grand Slams, 53 titles, 595/122 @82.98% win, Prize money $14,891,762. Former Yugoslav World No. 1 professional tennis player and a member of the International Tennis Hall of Fame. She won nine Grand Slam singles titles, winning eight of them while a citizen of Yugoslavia and one while a citizen of the United States. You were never sure if Monica Seles was hitting a forehand or a backhand, not that it mattered.
You were sure you were seeing the greatest sensation in her sport. In 1990, at the age of 16, Seles became the youngest-ever French Open champion. She went on to win eight Grand Slam singles titles before her 20th birthday and was the year-end World No. 1 in 1991 and 1992. Before the tragic stabbing that kept her out of the sport for two years, Seles was on her way to becoming one of the top players ever in the history of tennis.
8. Venus Williams
One of the Greatest Female Tennis Players, who has 7 Grand Slams, 46 titles, 675–180 (78.95%) win career Prize money $31,007,596. American professional tennis player who is a former World No. 1 and is ranked World No. 20 in singles as of March 4, 2013. She held the World No. 1 in singles by the Women's Tennis Association (WTA) on three separate occasions.
If not for her sister, Venus would doubtlessly have another handful of Grand Slams. As it is, she's been sort of a one-trick pony: five of her seven Slams have come at Wimbledon and the other two were at the U.S. Open. That's not too bad of a trick to have.
READ ALSO: Top 10 Tallest Tennis Players in The World 2020
7. Margaret Court
One of the Greatest Female Tennis Players, who has 24 Grand Slams, 92 titles, 91% win Prize Money Over $200,000. The best Australian female tennis player of all time, Nicknamed 'The Aussie Amazon,' her weight, circuit and cardio training gave her a physical advantage and ensured her stokes and serve were the most powerful of her time. It is because of Court that female players began to take physical training seriously. She has collected more Grand Slam singles titles than anyone, securing twenty-four majors from 1960 to 1973, also has the highest ever career match-winning percentage at 91.74%.
All this despite giving birth to three of her four children during her career. Part of the reason for her success, longevity, and ability to bounce back after childbirth breaks were her commitment to fitness training, something that wasn't viewed as particularly important in the women's game in the 1960s.
6. Maria Sharapova
One of the Greatest Female Tennis Players, who has 5 Grand Slams, 36 WTA titles, 639–163 (79.68%) win Prize money $38,342,119. No need to justify the score here. Sharapova has almost done it all in tennis, with her accomplishments being surpassed by a select few. Five Grand Slam titles and a win-loss record of 592–142 since she turned pro in 2001 at the age of 14.
She is a Russian professional tennis player who spent a total of 21 weeks as World No. 1 for WTA. Sharapova has set a series of records and is one of the most favorites among the sports brands as a marketable athlete. She is also noted off the court as one of the most beautiful, stylish, and successful athletes.
5. Chris Evert
One of the Greatest Female Tennis Players, who has 18 Grand Slams, 157 titles, 1309–145 (90.05%) win Prize money $8,895,195. A powerful baseline player, Chris Evert was the undisputed female star of the 1970s. In the latter half of the 70s, she dominated the women's game, and in her career amassed an amazing 90% match wins. Her two-handed backhand was legendary and opponents soon knew not to attempt to come to the net for fear of being passed time and time again. In fifty-six career Grand Slam tournament appearances, she missed the semifinal cut only four times.
In nineteen consecutive U.S. Open appearances, she never failed to advance to at least the quarterfinals. For thirteen consecutive seasons 1974 to 1986, she set a record that may never be broken by winning at least one major title every year. She collected a record seven French Open championships and Evert was the Queen of clay and can claim 125 consecutive matches on the surface, with a loss of only seven seats, a record which is yet to be beaten by any player in the world. No woman in history has played the game better for longer than Evert.
READ ALSO: Top 10 Most Marketable Female Athletes in 2020
4. Billie Jean King
One of the Greatest Female Tennis Players, who has 12 Grand Slams, 84 titles 695–155 (81.76%) win Prize money $1,966,487. If we were ranking the most influential tennis players ever, King would be a clear No. 1 and she'd be up there on a list of all athletes as well. Her pioneering efforts in gender equality and her win over Bobby Riggs in 1973's Battle of the Sexes often make people forget that she was a 12-time Slam winner.
She won six Wimbledon singles championships and twelve majors altogether, joining the career Grand Slam club. A brilliant volleyer, she controlled points with an intelligent attacking style and a powerful personality. Had she not been driven by a multitude of causes, she might have added even more luster to her record.
3. Martina Navratilova
One of the Greatest Female Tennis Players, who has 18 Grand Slams, 167 WTA titles 1,442–219 (86.8%) win Prize money $21,626,089. No woman player has had a more complete game. A magnificent athlete, and The fittest player on the tour in her time, her honed physique and incredible conditioning, she was virtually unbeatable for five years in her prime. From 1982-86, she lost only fourteen matches.
She secured a record nine Wimbledon singles championships, 1,442 wins, 167 titles, a 74-match win streak, playing in 23 consecutive singles finals, 18 singles titles at Grand Slams, 59 total titles at the Slams, nine victories at Wimbledon. Even as a 53-year-old breast cancer survivor, Martina could probably hold her own on tour today. A true champion deserves the No.2 spot in the all-time list.
2. Steffi Graf
One of the Greatest Female Tennis Players, who has 22 Grand Slams, 107 titles, 900–115 (88.67%) win Prize money $21,895,277. Steffi Graf is the Greatest Female Tennis Player of all Time, Nobody can deny This Universal Truth, Although Margaret Court won more majors, Graf is the only player (male or female) to win every Grand Slam event at least four times in singles. Her incomparable forehand, her extraordinary coordination, and an unmatched zest for competition lifted Graf to her preeminent level.
Graf broke quite a few records many of which are still unbeaten to this day, including the record for the highest number of weeks with a number one ranking (an incredible 377 weeks), at one stage staying at the top spot for 186 consecutive weeks. the greatest player of all time by numerous publications and polls. it is her ability to triumph on all surfaces. Whereas other players had their favorite surfaces, for example, Margaret Court was a hard court specialist and Martina Navratilova always excelled on the grass court, Steffi Graf was a true all-rounder of all time, regardless of surface.
READ ALSO: Top 10 Highest-Paid Female Athletes In The World 2020
1. Serena Williams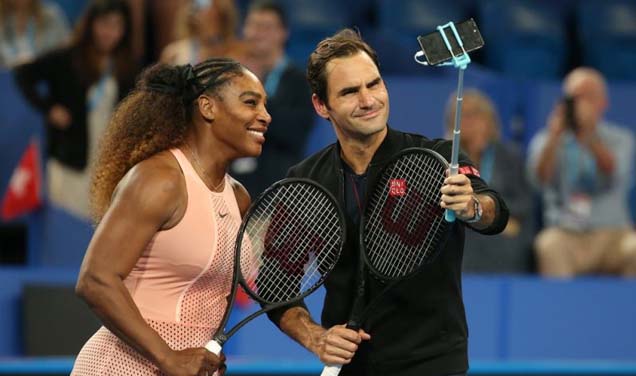 The all-time Greatest Female Tennis Players, who has 21 Grand Slams, 72 WTA titles, 801–136 (85.49%) win Prize money $88,233,301. Serena Williams currently holds rank No. 1 in women's singles tennis. Williams holds the most Major singles, doubles, and mixed doubles titles combined amongst active players, male or female. A prodigious athlete universally admired for her unshakable drive and immense, mental strength, and continued longevity. As one of the world's top female players, Serena Williams is undoubtedly up there with the best of all time.
All she has lacked is consistency, but who knows precisely what is in store for Serena in the years ahead? The younger Williams sister may be closer to the top of this list when her career ends, but as of now she doesn't have the resume to compare with the four players, Serena at her peak may have been the greatest who ever stepped onto the court. But this exercise was to rank the greatest careers, not who had the most talent.